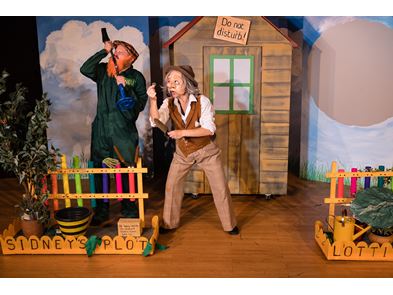 Feb
15
Thursday 11:00am
Main auditorium
Maisie is hiding and thinks she's found the perfect place – Sidney's Shed. But this is no ordinary shed, and Sidney Waffles is no ordinary gardener…
Inventor, explorer and winner of this year's 'Best-Veg-in-Show', the potty flower-potter has made some unusual improvements to his allotment.  Sidney has created the world's first time travelling shed!
Join Sidney and the bravest little girl in Windy-on-the-Hill on their time-travelling journey to dig up the past and weed out the bullies!
Following the fantastic success of last year's touring show Granny's Game, Rhubarb Theatre present a brand-new family show for gardeners and adventurers of all ages – bursting with historical hilarity, songs, music and prize-winning rhubarb!
"Sidney's Shed" is a fun and fast paced adventure through time for all the family. 
Suitable for 5 to 105 years.
Event Details